Hello everyone Today we are going to do "Eryone Thinker SE Review". We are going to give you a rundown of our first thoughts on getting this printer set up and using it. This review of Eryone Thinker SE is being written after using it for some time, we ourselves and some other 3D printing community members have shared their thoughts on Eryone Thinker SE. We will talk about its Pros and cons and also some unique features that come with this Eryone Thinker SE 3D Printer.
In The Post:-
Pros and Cons
Pros
Cons

Cheaper than most of the 3D Printers out there (Approximately $100- $120 less)

.
The Assembly manual could be better.
Makes very little noise.
Eccentric nuts are not used.
Uses latest TMC 2208 Stepper Motor.
Extruder same as other 3D printers.
Dual rail for Bed support.
We will talk about all these pros and cons in the post "Eryone Thinker SE Review" in further detail so keep reading.
Eryone Thinker SE Review
Procurement
It came to us from a friend of a friend we were introduced to the gentleman who is a representative for Eryone. They were looking for people to buy these printers, do a review and give some feedback. They offered a coupon rebate if we purchased one. The purchase price was $429 they credited us $90 towards our purchase.
So we get the Eryone thinker SE a little bit cheaper. Let me tell you one thing in advance although they approached us and discounted us we are not going to be biased in any way.
Eryone Thinker SE Review
First Thoughts
First Thoughts Rating – 3.9/5.0
We've had this going for about a week now and we've literally enjoyed it. The first thing that you would notice about this printer is how quiet it is. It has trinamic 2208 drivers and this thing is whisper quiet. The only thing you're going to hear is the fan on the hot end and if you happen to be next to the power supply you'll hear that exhaust fan there as well.
When we get new printers, the first thing we want to do is print the various upgrades that our printers will need. We want to print things like bed leveling knobs, strain relief for the heat bed, and things like that. You don't have to do that with this printer they've already done it already.
Unlike the CR-10, Tivo Tornado, and those older printers the control box is all built in the front of the printer. The exception of course is the power supply, which has an external cord that plugs in. The unique thing about its power supply is that it's separate. The power supply is not attached to the mainframe.
Another unique thing is the aluminum bed clips (See image below). These are small cuboidal clips to hold down the glass plate on the heat bed during printing. It's very easy to use them, you just clip them and tighten the M3 screw given at the bottom. They definitely help in making 3D printing easier.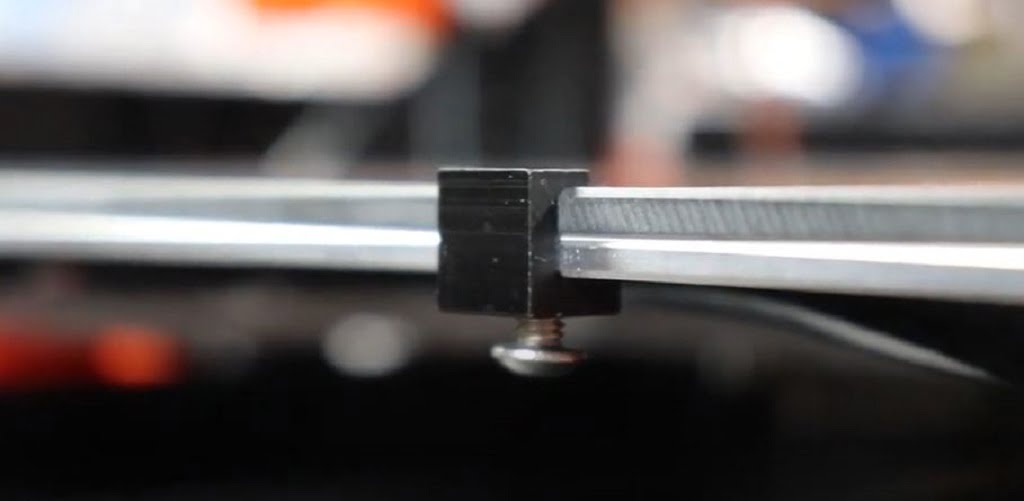 Eryone Thinker SE Review
Specifications
Specifications Rating – 4.0/5.0
All Specification are quite common to the other printers. One plus point is that it's really quite with only 49dBA noise.
| | |
| --- | --- |
| Build volume | 300x300x400 mm (LBH) |
| Stepper motor driver | TMC 2208 |
| Print technology | Fused Filament Fabrication(FDM) |
| Print precision | 0.05 mm |
| Filament Diameter | 1.75mm |
| Nozzle Diameter | 0.4mm |
| Avg. Operating Noise | 49dBA |
| Slicer software support | Simpfily3D, Cura, Prusa slic3r, Repetier-host, etc |
| Supported OS | Windows, macOS X, Linux |
| File Type Supported | .GCO, .GCODE |
| Firmware | Merlin |
| Power Supply Input | 100~135V/200V~264V 6A 50~60Hz |
| Desktop Space | 510x415x652 mm (LBH) |
Source: Eryone Thinker SE Official Site
Eryone Thinker SE Review
The Assembly
Assembly Rating – 4.2/5.0
The overall assembly was easy but doing it through the documents provided was quite a hassle. Although we were familiar with many types of 3D Printers sometimes we were stuck at some points.
Well like most of the printers when they show up they're very well packed. What we didn't expect with this one is that the extruder comes loose. It was basically in there with a half screw so when we unpacked it kind of came flying out at us. Well, that was quite a surprise.
The other thing is that the hot end assembly, everything here is basically bolted in with two screws. So this makes things kind of hanging loose as well.
The assembly wasn't too bad. We relied heavily on the printed documentation that came with it. We found that was a little vague in some areas. Our team has put together a lot of printers but in this, there are a few areas where you have multiple screws and you're not sure which size to use where.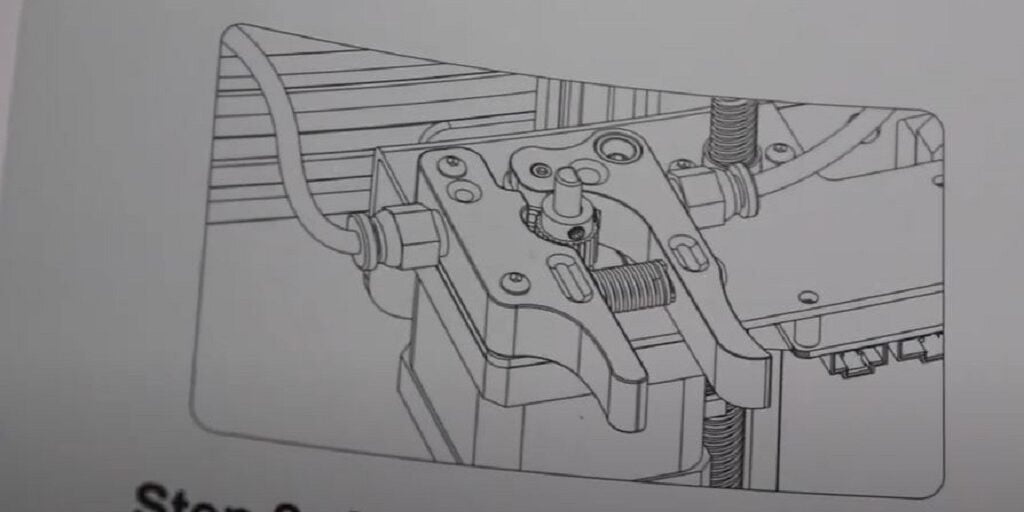 We've given a lot of feedback to Eryone and let them know that if you make a few tweaks in the guide this will take a lot of the guesswork out of the assembly. For us, some of the guesswork was getting the extruder together because of different size screws. Then which way to get the stepper motor which way to attach it so that everything plugs in properly.
The youtube video they have showing the assembly is excellent. So our advice is if you do purchase a printer like this and if you want to educate yourself ahead of time certainly check out their video that shows you how to put it all together.
Included SD Card
On the included sd card it's really kind of interesting because they included not only the sample Gcode that you would print. But they also have the manual and they also have a folder for profiles. So they have a simplified 3d and a cura profile ready to go.
Eryone Thinker SE Review
First Print
First Print Rating – 4.0/5.0
Print the test file took some time but was good in quality. They could definitely give something else that is less time taking.
Before you print you have to level the bed. We did find when you're doing the manual bed leveling when you do each edge there's no problem. But when it came to the middle it was off a little bit. Now the workaround for that is when you first start that first layer crank those dials on the outside and bring the center up.
The next model printer that they sell is a Thinker S and essentially that just has a spring steel PEI bed in place of the glass. You can get those beds from aftermarket like an easy plate or wham bam or various other vendors.
Now, when you do get everything leveled and you're all set to go just be wary that the first test print that comes off the printer it's not small it's a fairly good size. It's at 0.1mm layer size so it's going to take about three hours to print. So if you're standing by and eagerly watching your machine to test print it's going to be doing it for a while.
Just one of the things to be aware of is when you do get your printer make sure you check your power supply. Make sure you have that clipped over to115 Volts if you're in the United States. If your local power is 220V you'll be fine, so just make sure to check that.
Eryone Thinker SE Review
Unique Points
First of all, on the very front of these rails, they have measurements. At first, when we first received the printer we were thinking what would you use that for. One of us thought it is to calculate how tall your print is, well you can do that too but no it's not for this. Well, this is an interesting way to make sure your gantry is level. To make sure you have to check the levels on both side rails. Make sure they both are at the same level and your gantry will be perfectly leveled.
Another thing that's kind of interesting is that they don't use any eccentric nuts. In the place of the eccentric nuts, they use wheels. Our concern is that as these wheels start to wear a little bit you might want to tighten them up or add a little bit more friction but there are no eccentric nuts as we look around that you can adjust.
We're a little curious about that design decision it is a little unusual. So far we haven't seen any situations where that has been a problem. So far these guys move a little bit as we go up the rail. We at TheMechNinja workplace are still fans of those eccentric nuts so we can make fine adjustments according to our requirements. Let's see how far things will roll with these wheels.
Another thing this has this has a dual bed rail that's where the wheels are riding. So far we've had no issues with that and it's been very smooth. In our CR-10s we've had to tighten them up every now and then because they ride on the center. This setup has worked out quite well.
FAQ on Eryone Thinker SE
What is the price of Eryone Thinker SE 3D printer?
The Eryone Thinker SE is currently selling at $410 on its homepage of Eryone 3D Printers.
Which type of stepper motor driver does Eryone Thinker SE use?
Eryone Thinker SE uses TMC 2208 stepper motor driver which makes its working noise range up to 49dBA, which is very low.
How much space does Eryone Thinker SE will take on a tabletop?
Eryone Thinker SE is not a very bulky printer it takes exactly 510x415x652 mm (LBH) tabletop volume.
Eryone Thinker SE Review
Conclusion
Overall this printer is a steal deal. Till writing this post we haven't experienced any major issue worth mentioning here. We could definitely use some good old eccentric nuts, but sometimes experimenting is also good.
If you want to purchase a silent 3D printer we would definitely recommend you to go with this one. Maybe, it's not something better than any of those expensive 3D Printers out there but it definitely is not lagging behind in any manner.