Hello, guys in this post we're gonna check out the best 3d printer for miniatures in the market. We hope to be able to help other people that are new in their 3d printing journey. To be able to either decide what type of printer and what type of tips and things they want. So that's what this post is exactly about, it's helping people get started and get better at doing their own prints.
Now starting with choosing the right 3d printer for you. When 3d printing started a couple of years ago it was really expensive. But that's not the case anymore it has dropped and priced significantly low. You can get a 3D printer for as cheap as $100 or $200. $100 3D printers are fine but we personally prefer $200 and above range for passion/hobby level 3D printing.
This post is not gonna be any normal review post. It's gonna be a combination of a community spotlight where people with all of these different printers we recommend in this post share their work with us. And we share their experiences with you so you can know the type of quality that they've gone on their printers.
So, this is not just us, but all these other people in the community. These are peoples who are doing these prints and trying to do the things that you're gonna want to do too. So we want you to read the first-hand reviews and experiences of all these guys. After this, you can exactly decide that with which type of 3D printer for miniatures you want to go with.
Best 3D Printer for Miniatures 1/5
Da Vinci Mini Wireless
Da Vinci mini Wireless 3d printer is a budget-oriented printer. It's a uniquely designed piece of tech that's targeted towards newcomers and casual consumers. So if you are starting in the world of Best 3D Printer for Miniatures then this one can be a good choice.
Its bright orange plastic case definitely makes it stand out from the crowd of black printers. Additionally, the case covers the workings of the printer but the print bed and hot extruder are still open to the world. At the bottom of the open space in the middle of the mini is the print bed six by the six-inch aluminum slab. It is covered with a sheet of tape that the PLA print material sticks to.
This sheet can be easily swapped out if it's damaged while removing a print. While the mini ships with three of these. Other common specifications of the printer are given in the table below.
| | |
| --- | --- |
| Build Volume | 5.9″ x 5.9″ x 5.9″ |
| Resolution | 100 – 400 microns |
| Calibration | Auto Leveling |
| Printing Speed | Max. 120 mm/s |
| Materials Type(s) Used | PLA / PETG / Tough PLA/ Carbon Fiber*/Metallic PLA* (*Option Extruder) |
| Wireless | ✓ |
| Color Printing | Mono Color |
Best 3D Printer for Miniatures 2/5
Makerbot Replicator+
You can think of Makerbot Replicator+ as a steroid-junked Makerbot replicator. It has better speed, lesser print time, better build volume, and aesthetics. Overall we can say this is some worthy successor for Makerbot Replicator.
This 3D printer is measured 16.2 inches tall, 17.4 inches wide, and 20.8 inches in depth. Thus due to its built, it will take some space on your desktop. It has a build volume of 11.6 inches by 7.6 inches by 6.5 inches. Well clearly it's not having a symmetrical build like Ultimaker 2+(which we will discuss in this post) but it is a quite good size for printing your own miniatures.
| | |
| --- | --- |
| Build Volume | 11.6″ x 7.6″ x 6.5″ |
| Resolution | 100 microns |
| Build Surface | Grip Surface |
| Printing Speed | Max. 120 mm/s |
| Materials Type(s) Used | MakerBot PLA Filament, MakerBot Tough PLA Filament |
| Remote Monitoring | ✓ |
| Connectivity | Wi-Fi, Ethernet, USB-Stick, USB-Cable |
Best 3D Printer for Miniatures 3/5
Formlabs Form 2
Form 2 is one of the best available resin printer. We all know that resin printers are best 3D printer for miniatures printing. Let's talk about it's pro's and con's in short in the following paragraphs.
Pros: First of all it has the best print quality, its assembly and operation are quite simple. It has great harmony between its hardware and its software. Its user interface is of the best and it has nearly no printing noise so you can set it up in your bedroom also.
Cons: Well first of all there is material wastage in the name of providing supports which are clearly very dense. Every time you want to do a printing you have to perform post-processing. Changing resin is like learning a new task in itself. Both printer and resin are quite expensive.
| | |
| --- | --- |
| Printer Volume: | 13.5″ x 13.0″ x 20.5″ |
| Resolution: | 25, 50, 100, 200 microns |
| Power requirements: | 100–240 V |
| File types: | STL, OBJ, FORM |
| Materials Type(s) Used: | Photopolymer Resin |
| Build size: | 5.7″ × 5.7″ × 6.9″ |
| Connectivity: | USB wire, Ethernet, Wi-Fi |
Best 3D Printer for Miniatures 4/5
Ultimaker 2+
Ultimaker 2+ uses the FDM method of 3D printing i.e. Fused Deposition Method. It is one of the key 3D printers in FDM society but, not the most major one. Let's discuss its pros and con's in short below.
Pros: Works with most of the operating systems like Windows, macOS X, Linux, etc. Super simple in setting up and noise levels are also greatly reduced. Accept every type of filament and 3rd party filaments. Print resolution is also quite high.
Cons: You have to do calibration on your own. Control panel is nothing eye catchy means its just workable. Open door printing increases risk of interference and print failure. It's Cura slicer software is not up to date like other companies slicer softwares.
Build Volume:
8.7″ x 8.6″ x 8.0″
Resolution:
0.25 mm nozzle: 150 – 60 micron
0.4 mm nozzle: 200 – 20 micron
0.6 mm nozzle: 400 – 20 micron
0.8 mm nozzle: 600 – 20 micron
Power requirements:
100 – 240 VAC, 50 – 60 Hz
Nozzle Diameters:
0.25, 0.4, 0.6, 0.8 mm
Materials Type(s) Used:
Photopolymer Resin
Print Technology:
Fused filament fabrication (FFF)
Display:
2.4-inch (6 cm) TFT color touchscreen
Best 3D Printer for Miniatures 5/5
Phrozen Sonic Mini 4K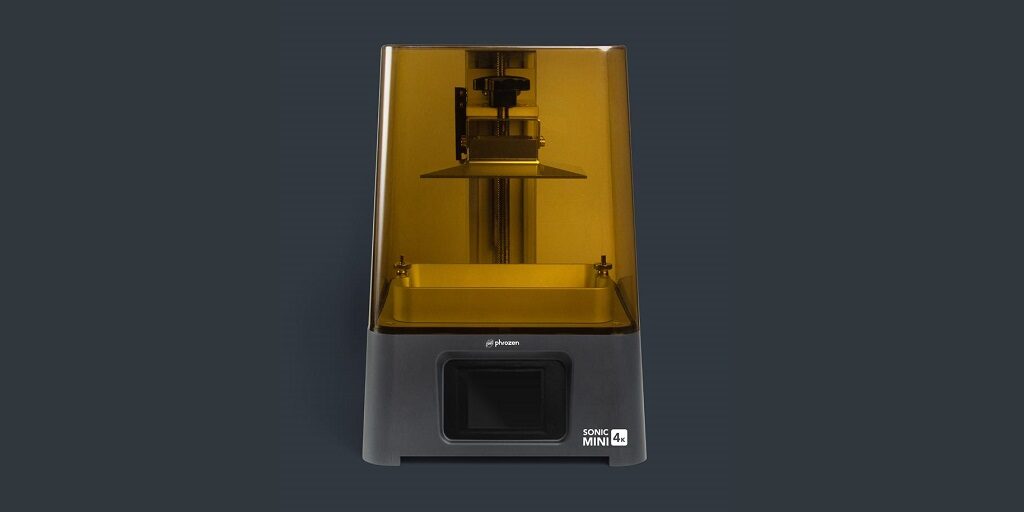 Phrozen Sonic Mini 4K is a high-resolution 3D resin printer. It costs around $350, which is OK for a high-resolution 3D printer for miniatures. If you want a 3D printer with fast printing speed, high-quality details, and at a low investment then you should go for this one.
It has very easy setup and first time installation is quite hassle free. App interface is also user friendly and simple. Other specifications about Phrozen Sonic Mini 4K are given below.
| | |
| --- | --- |
| Build Volume: | 5.2″ x 2.9″ x 5.1″ (LBH) |
| Resolution: | 0.01 mm – 0.30 mm |
| Power requirements: | 100V-240V AC, 50/60Hz |
| Screen Type: | 2.8 Inch Touch Screen |
| Operating System: | Phrozen OS |
| Print Technology: | Resin 3D printer |
| Printer Dimensions: | 9.8″ Length X 9.8″ Width X 12.9″ Height |
Best 3D Printer for Miniatures FAQ
Which is the cheapest & best 3D Printer for miniatures printing?
Currently Creality Ender 3 is one of the best choice. It works on FDM (Fused Deposition Method) and costs around $250.
Which type of printing method is best for printing 3D miniatures?
Resin 3D printers provide far better results in terms of quality when compared to FDM printers. But, resin printers are much costlier than normal FDM printers.
We hope that you have found this post on "Best 3D Printer for Miniatures: Buying Guide" helpful. If you liked it then share it with your friends and help them out. Share your thoughts and queries in the comment box below.